James A. Foster, AB, MS, PhD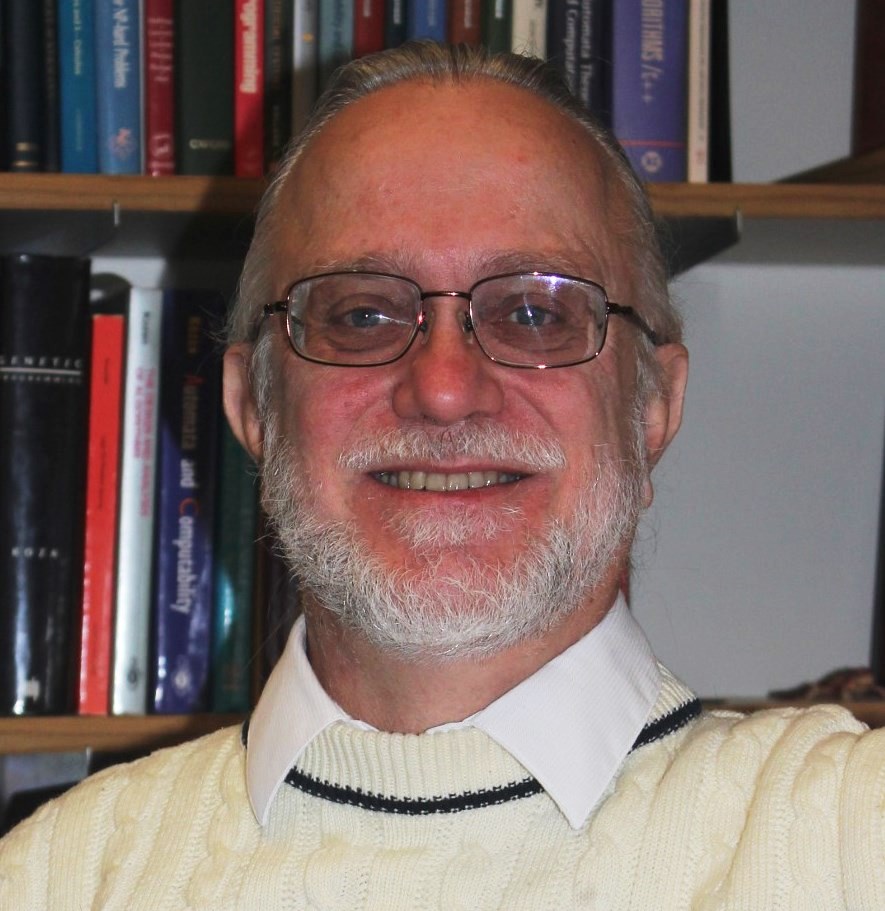 Affiliate Professor, Biomedical Informatics and Medical Education
University Distinguished Professor, University of Idaho
Adjunct Professor of Philosophy, University of Idaho
Adjunct Professor of Computer Science, University of Idaho
Interests:
Bioinformatics algorithms for analysis of microbial ecosystems, microbiomes, evolutionary computation, genetic programming, agent based simulations, ethics, classical philosophy
Background:
A.B. in Philosophy from University of Chicago, M.S. and Ph.D. in Computer Science from Illinois Institute of Technology
Research:
Bioinformatics algorithm development, human milk microbiome, TTX production and the rough skinned newt skin microbiome, microbiome of sediment on the mid Atlantic ridge, emergence of signaling systems.
Teaching:
Graduate ethics, computing skills for biologists
Other Roles:
Site director for NSF BEACON Science and Technology Center, (former) Idaho INBRE Bioinformatics Director, science advisor to the University of Idaho IBEST Computational Resources Core
Representative publications:
W Banzhaf, B Baumgaertner, G Beslon, R Doursat, JA Foster, B McMullin, VV de Melo, T Miconi, L Spector, S Stepney, R White (2016) Defining and Simulating Open-Ended Novelty: Requirements, Guidelines, and Challenges. Theory in Biosciences, In Press
CS Greene, JA Foster, BA Stanton, DA Hogan, Y Bromberg (2016) Computational approaches to study microbes and microbiomes. Pacific Pacific Symposium on Biocomputing, 21:557-567
DL Beck, JA Foster (2015) Machine learning classifiers provide insight into the relationship between microbial communities and bacterial vaginosis. Biomedical Data Mining and Analysis, 8:23, DOI10.1186/s13040-015-0055-3
S Ma, JA Foster, LJ Forney (2015) Network analysis reveals a potentially "evil" alliance of opportunistic pathogens inhibited by a cooperative network. Nature Scientific Reports, 5, 8275–6
IY Zhbannikov, JA Foster (2015) MetaAmp: Analysis high-throughput microbial amplicon sequence data with multiple markers. Bioinformatics, 31(11), 1830–1832. http://doi.org/10.1093/bioinformatics/btv049
DL Beck, C Daniels, JA Foster (2014) Seed: A microbial community visualization tool. Bioinformatics, pii: btu693
J Carter, DL Beck, H Williams, G Dozier, JA Foster (2014) GA-Based Selection of Vaginal Microbiome Features Associated with Bacterial Vaginosis. Genetic and Evolutionary Computation Conference (GECCO), 2014, Vancouver, BC Canada
YS Baker, R Agrawal, JA Foster, DL Beck, G Dozier (2014) Detecting Bacterial Vaginosis Using Machine Learning. ACM Southeast Conference, Springer
JA Foster (2014) Microbial diversity, bar-coding approaches. Encyclopedia of Metagenomics, Springer
YS Baker, R Agrawal, JA Foster, DL Beck, G Dozier (2014) Applying Machine Learning Techniques in Detecting Bacterial Vaginosis. International Conference on Machine Learning and Cybernetics (ICMLC), Lanzhou, China
DL Beck, JA Foster (2014) Machine learning techniques accurately classify microbial communities by bacterial vaginosis characteristics. PLOS One, 9(2):e87830
KA Pattin, AC Greene, RB Altman, LE Hunter, DA Ross, JA Foster, JH Moore (2014) Building the next generation of quantitative biologists. Pacific Symposium in Biocomputing, 2014