Barry Aaronson, MD, FACP, SFHM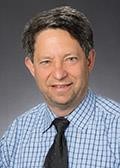 Hospitalist & Chief Medical Informatics Officer, Virginia Mason Medical Center
Clinical Associate Professor, Department of Medicine
Clinical Associate Professor, Biomedical Informatics and Medical Education
Interests:
Applied clinical informatics, with focus on using health IT to mistake-proof inpatient quality metrics and safety.
Background:
Working 1/2 time as a Hospitalist at Virginia Mason Medical Center and 1/2 time as the Chief Medical Informatics Officer at Virginia Mason. Completed in 2009 National Library of Medicine Post-Doctoral Fellowship within BHI. During fellowship completed a clinical trial of an EHR based tool to assist the UWMC and HMC Rapid Response Teams proactively identify deteriorating patients outside the intensive care units in an effort to reduce mortality, unexpected cardiac arrest and unexpected transfers to the intensive care units.
Research:
Collaborating with Dr. Wanda Pratt from the iSchool on an AHRQ grant titled "Patients as Safeguards". Through this grant we are studying what the information needs are for adults at Virginia Mason Medical Center and children and their caregivers at Seattle Children's Hospital so that they can play a role in safeguarding their own care.
Representative publications:
Solti I, Aaronson BA, Fletcher G, Solti M, Gennari J, Cooper M, Payne T, "Building an Automated Problem List Based on Natural Language Processing: Lessons Learned in the Early Phase of Development" AMIA Annu Symp Proc. 2008; 2008: 687
Hanson D, Aaronson B, Krevat S. An EHR Structured Discharge Documentation Tool to Mistake Proof CHF Bundle Compliance. (2010), Innovations Poster Abstract. Journal of Hospital Medicine, 5: 84–110. doi: 10.1002/jhm.708
 White A, Aaronson B, Fletcher G. et. al. Initial Pilot of an Electronic Health Record Dashboard to Improve Compliance with Inpatient Quality Measures. (2010), Innovations Poster Abstract. Journal of Hospital Medicine, 5: 84–110. doi: 10.1002/jhm.708
Aaronson BA, Westley M, Spohnholtz M, Tyler L, Dunning, E. Evaluation of an Electronic Early Warning System for the Detection of Critically Ill Hospital Patients. (2008), Innovations Abstracts. Journal of Hospital Medicine, 3: 49–74. doi: 10.1002/jhm.330
 Aaronson B, Stone D, Schaft M, et. al. An Electronic Health Record Based Tool to Aid in the Prevention of Avoidable Deaths in Hospital Patients. (2009), Innovations Poster Abstracts. Journal of Hospital Medicine, 4: 73–92. doi: 10.1002/jhm.546