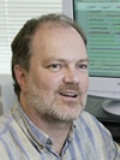 Interests:
Bioinformatics, genomics, molecular parasitology, systems biology, structural genomics, biodefense
Background:
B.Sc.(Hons.), and Ph.D. in Biochemistry from the University of Queensland.  25 years experience in molecular parasitology, genomics and bioinformatics.
Research:
1. Structural genomics (high throughput protein structure determination) of biodefense and emerging infectious disease organisms — funding through NIAID contract
2. RNAP II-mediated transcription in Leishmania – funded, renewal pending
3. Genome-wide and bioinformatics approaches to studying differentiation between insect and mammalian lifecycle stages of Leishmania — minimal funding
4. Drug and diagnostic development for African trypanosomes and Leishmania — funded through collaborations
5. Annotation and curation of trypanosomatid sequence and functional genomics databases — currently funded
Informatics projects include development of sequence, functional genomics and process management databases, analytical software tools and web-based interfaces for analysis of sequence, mRNA expression and proteomics data.
A complete list of my published work can be found in my NCBI bibliography: http://www.ncbi.nlm.nih.gov/myncbi/peter.myler.1/bibliography/40385952/public/?sort=date&direction=ascending
Teaching:
Currently only accepting graduate students and/or post-docs with funding.