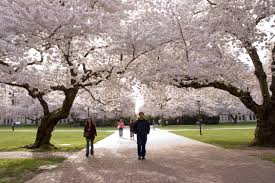 Chair's Message

Spring has arrived, and the cherry blossoms are in bloom on the University of Washington campus. We have completed the application and interview process for our Clinical Informatics fellowship and new fellows will start in July 2017. Prospective PhD students visited in March. We are also ramping up our annual admissions for our on-line applied MS in Clinical Informatics and Patient Centered Technologies with applications due May 1st. Finally we are in the midst of an annual faculty recruitment cycle as part of our strategic plan to expand by 50% our core faculty, with 7 positions remaining to be filled over the next two years (see link).
We are happy to share that the University of Washington has maintained its No. 11 position in US News Best Global Universities ranking, and is ranked third among public institutions.  Read more here:  http://www.washington.edu/news/2016/10/25/uw-maintains-no-11-position-in-us-news-best-global-universities-ranking-third-among-public-institutions/
Cordially,
Peter Tarczy-Hornoch, MD
Chair and Professor, Department of Biomedical Informatics and Medical Education
BIME Event Calendar
For a calendar listing of upcoming events, click here.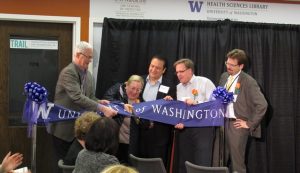 Biomedical Informatics and Medical Education News
September 18-22, 2017
AUTUMN QUARTER BHI COLLOQUIA (September 27- December 8)
BIME 590A (SLN 11339) – Biomedical & Health Informatics Lecture Series
Thursdays, 4:00-4:50 p.m., UW Medicine South Lake Union, Building C, Room C123A&B
Facilitator: Adam Wilcox, PhD
Informatics faculty and researchers from the UW and affiliated institutions present their research findings and discuss their views of national developments in their areas of expertise. See the course website for details.
NOTE: There will be no BIME 590 seminar on Thursday, November 23 (Thanksgiving).
BIME 591B (SLN 11341), Autumn 2017 – Student Lecture Series
 Tuesdays, 12:00-12:50pm, Health Sciences Building, T530
Instructor: Shefali Haldar
Faculty Sponsor: David Masuda, MD
BIME 591B: Student Lecture Series is a weekly, one-credit, 50-minute seminar intended to showcase the breadth and depth of research activities in Biomedical & Health Informatics (BHI). The primary goals of this course are to provide a space where students can share their research projects with fellow students and help students receive constructive feedback on presentations and research ideas.  See course website for details.
BIME 591C (SLN 11342), Autumn 2017 – Machine Learning in Healthcare: Opportunities and Challenges
 Tuesdays, 1:00-1:50pm, SOCC 346
Instructor: Elaine Nsoesie, PhD
This one-credit seminar is geared towards students in the Biomedical Health Informatics program. It is also open to faculty and the public. The course will consist of presentations and discussions about opportunities and challenges in using machine learning in healthcare. Presentations will cover topics related to the use of machine learning in healthcare including ongoing research and tools for disease diagnosis, and current topics of debate such as, data and algorithmic bias. Each week, students will hear a presentation or discuss a journal article in the field. Additionally, students will also assess the current field and identify new opportunities and challenges.  See course website for details.
 Information on Current BHI Colloquia can also be found on the BIME website.
FACULTY/STUDENT/ALUMNI/STAFF ACTIVITIES
 Dr. George Demiris Accepts New Position at the University of Pennsylvania
It is with great sadness for UW BIME and great happiness for George that we are announcing that Dr. George Demiris has accepted a position as the University of Pennsylvania's 22nd Penn Integrates Knowledge University Professor effective Jan. 1, 2018. The Penn Integrates Knowledge program is s a University-wide initiative to actively recruit exceptional faculty members whose research and teaching exemplify the integration of knowledge across disciplines and who are appointed in at least two schools at Penn. George will hold a joint appointment in the School of Nursing (Department of Biobehavioral Health Sciences) and the Perelman School of Medicine (Department of Biostatistics, Epidemiology, and Informatics).  This is an incredible honor for George and please join us in congratulating him. We have begun work on a transition and succession plan for George's various roles in the department and will be sending updates as these transition plans are finalized.  For the news release about George's new appointment visit:
https://news.upenn.edu/news/george-demiris-appointed-penn-integrates-knowledge-university-professor
Congratulations to Dr. David Crosslin!
BIME faculty David Crosslin, PhD, was recently approved for a Microsoft Azure Research Award.  The Microsoft Azure sponsorship is up to USD $20,000.00
Congratulations to Dr. Wanda Pratt
BIME adjunct faculty Wanda Pratt, PhD, released an article, "Why women can't just 'get over it,'" which has generated over 25,000 views. Read the article here!
BIME PhD student Hyunggu Jung will serve as a panelist for the Fall 2017 FIUTS Grad-Only Orientation on September 15th. Below is the description of the event.  The FIUTS Grad-Only Orientation planning hosts current international master's and doctoral students to volunteer for 1 hour to share their insights with new graduate students.
September 11-15, 2017
FACULTY/STUDENT/ALUMNI/STAFF ACTIVITIES
BHI Affiliate Faculty Tania Bardyn received a  National Leadership Grant for Libraries from the Institute of Museum and Library Services to create a virtual reality studio in the Translational Research and Information Lab (TRAIL) in collaboration with the UW Center for Cardiovascular Innovation for the surgery team to use prior to heart surgery. The project will also create a primer for the medical library to use to design, plan, implement, and evaluate VR and AR studios.
PUBLICATIONS AND PRESENTATIONS
C. Koebnick, Y. Mohan, X. Li, A.H. Porter, M.F. Daley, G. Luo, and B.D. Kuizon. Failure to confirm abnormal blood pressures in pediatric care – quantifying the risks of misclassification. Journal of Clinical Hypertension
Park A, Conway M, Chen AT (in press). Examining thematic similarity, difference, and membership in three online mental health communities from Reddit: A text mining and visualization approach. Computers in Human Behavior.
September 4-8, 2017
FACULTY/STUDENT/ALUMNI/STAFF ACTIVITIES
Dr. Elaine Nsoesie, Assistant Professor of Global Health and Adjunct Assistant Professor in BIME, and researcher Nina Cesare at IHME, authored a piece featured in NPR, which can be read here.
PUBLICATIONS AND PRESENTATIONS
Janice Sabin, PhD, MSW has been invited to speak at Baylor Medical College, October 4th, 2017. The talk is titled: "A Compassionate Conversation: Understanding the Science of Unconscious Bias." The book Blindspot, Hidden Biases of Good People (Banaji & Greenwald, 2013) will be used to form the basis of a common knowledge about the topic.
August 28-September 1, 2017
UPCOMING LECTURES AND SEMINARS
UW School of Medicine Event
Save the Date for the 2017 Fall SLU Collaborative Seminar Series: Sensory Science. This seminar will feature experts from UW Medicine, Fred Hutch, and Allen Institute. Dr. Tom Reh will be representing UW Medicine, discussing his work on the regeneration of retinal cells.
The presentations start at 4pm, followed by a reception to meet your South Lake Union neighbors and future research partners.
Save the Date:
Tuesday, October 10, 2017
4:00 – 6:00 PM
Orin Smith Auditorium, Building C, UW Medicine at South Lake Union.
FACULTY/STUDENT/ALUMNI/STAFF ACTIVITIES
Job Announcement, courtesy of BHI Alum Alan Kalet, PhD, Assistant Professor, Department of Radiation Oncology
University of Washington, Seattle, Department of Radiation Oncology
Post-Doctoral Fellow
Position Description:
A postdoctoral research position is available in the Department of Radiation Oncology, at the University of Washington, Seattle.  The term of appointment is one-year beginning on approximately September 1, 2017.  This research focus for this NCI-funded position is to explore and develop novel probabilistic-based systems designed to perform automated quality assurance checks on radiation therapy plans. Errors in the planning and delivery of radiation therapy can result in inferior outcomes for patients. The magnitude of this problem is now well-appreciated from cooperative group trials and other sources. At present, however, there are few concrete tools to reduce the chance of plan errors passing undetected. As radiation therapy becomes more complex and varied, and as the demands on staff increases, new methods are needed. Our development will result in an independent means of verifying that the type of radiotherapy treatment and the way it is prescribed are in keeping with the standards already in place within a specific clinic. The postdoctoral fellow will focus on the design, modeling and development of this technology.
The candidate should have a Ph.D. degree in physics, medical physics, biomedical engineering, or biomedical informatics. Candidates with the following background are preferred: (1) strong interest in research in radiation oncology and experience in data analysis and processing; (2) exposure to clinical radiation oncology physics; (3) solid mathematical/physics/statistic background, and computer programming skills.
Facility and Environment:
The Department of Radiation Oncology treats over 160 patients per day in a strong multimodality program.  The Department has 14 faculty physicists and administers a CAMPEP-accredited medical physics residency program with two residents recruited per year through the Medical Physics Match Program. Radiation delivery equipment includes 7 linear accelerators, IGRT-capability, a Mobetron intra-operative accelerator, GammaKnife, Acuity Imaging-based Brachytherapy Suite, 3 large-bore 4D CT simulator, HDR unit, a Scanditronix fast neutron therapy facility and  proton beam facility with gantry and Incline beam capability.
Employer and Environment:
The Department of Radiation Oncology is an integral part of the University of Washington and collaborates closely with the Fred Hutchinson Cancer Research Center, a world-class cancer treatment center, a Program is an NCI-designated Comprehensive Cancer Center, which ranks #6 of 67 in the nation.  The University of Washington is an equal opportunity affirmative action employer. Women and minorities are encouraged to apply. Please send applications to Alan Kalet, PhD, Assistant Professor, Department Radiation Oncology, ph: 206-288-7642, E-mail: amkalet@uw.edu
August 21-25, 2017
FACULTY/STUDENT/ALUMNI/STAFF ACTIVITIES
 Congratulations to Adyasha Maharana!
On August 17th, Adyasha successfully defended her MS thesis titled, "Extraction of Clinical Timeline from Discharge Summaries using Neural Networks," with her supervisory committee chaired by Dr. Meliha Yetisgen. Her committee also included Dr. Adam Wilcox.
PUBLICATIONS AND PRESENTATIONS
Luo, K. Sward. A Roadmap for Optimizing Asthma Care Management via Computational Approaches. JMIR Medical Informatics, 2017.
Radiation Oncology Needs to Adopt a Comprehensive Standard for Data Transfer: The Case for HL7 FHIRMark Phillips Ph.D. and Lia Halasz M.D.Int J Radiation Oncology Biology Physics
August 14-18, 2017
FACULTY/STUDENT/ALUMNI/STAFF ACTIVITIES
Congratulations to Ahmad Aljadaan!
On August 10, Ahmad successfully passed his General Exam for his proposal entitled "Secondary Usage of EHR Data to Improve Discharge Decisions for Cardiac Patients."  Congratulations Ahmad!
Congratulations to Carolyn Paisie!
Today, August 11, Carolyn successfully defended her MS thesis titled, "RNAseq and Ribosome Profiling Generate New Insights into Leishmania Differentiation," with her supervisory committee chaired by Dr. Peter Myler. Her committee also included Dr. David Crosslin.
PUBLICATIONS AND PRESENTATIONS
The following submission has been accepted for a poster presentation at ASSETS 2017:
Seo W, Jung H. "Exploring the Community of Blind or Visually Impaired People on YouTube". Accepted for a poster presentation at the 19th ACM SIGACCESS Conference on Computers and Accessibility (ASSETS), Baltimore, MD, October 2017.
OTHER EVENTS
Congratulations to Tim Bergquist!
BHI PhD Student Tim Bergquist and Christa Harrigill were married the weekend of July 30th.  Best wishes to the happy couple!